CUSTOMIZATION OPTIONS
CUSTOMIZE PHOTO AND BACK PANEL

Use the established Thoughtful Investor newsletter masthead and colors, with your photograph and back page mailing panel information.

CUSTOM MASTHEADS

Establish your unique newsletter masthead with changes to the background image, name. This is carried over to the back page.

CUSTOM CONTENT

Build your own newsletter using articles from our archive or substitute one of more of your own article(s).

CUSTOM APPLICATIONS

Take a favorite article and turn it into a one-page reprint layout for use with your marketing efforts.
---
DIGITAL OPTIONS
Mobile Friendly Emails
Layouts that read well on the small phone screen, but can also be viewed on a monitor.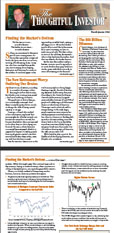 Downloadable PDF Files
Everything in a regular newsletter, without printing. Email or set up as a web site link for downloading.
Web Page Newsletters
Flipbook or html coded pages. Works well with social media where a teaser is used on your page or tweet, linking to the full article on your website or blog.